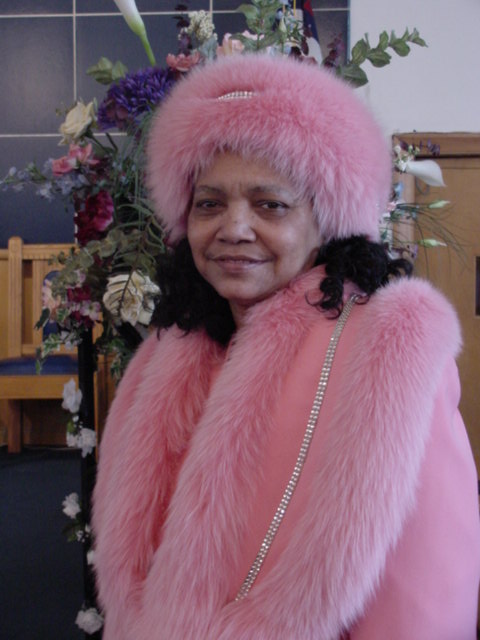 The Life & Legacy
of
Lady Bertha F. Sutton

Evangelist Bertha Floyd Sutton left a vast legacy for the women of Maryland Church of God in Christ. Her life's standards were established by God, and rooted in biblical principal. She followed Christ's example and remained true to the high call God had for her life. Her life was filled with diversity because of her multiple roles as a wife, mother, grandmother, teacher, preacher, and first lady.

Her faith is valued as a great treasure, worth passing on to others. For where your treasure is, there your heart will be also. She wanted to leave the women of the Maryland Church a legacy of faith, strong work ethic, and a commitment to God. "A good man (woman) leaveth an inheritance to his children's children" Proverbs 13:22.
Mother Sutton was a teacher and preacher of the word. God gave her a hunger and thirst for the word of God and she lived it, spoke it and preached it. "The fruit of the righteous is a tree of life; and he that winneth souls is wise" Proverbs 11:30.

Her skill as an organizer provided structure for the Women's Department and helped to expedite the events we sponsored annually. She worked faithfully every year planning, promoting and publicizing our annual prayer breakfast. She was involved in every phase of the event from the beginning to the end.

In addition to the Prayer Breakfast, Mother Sutton assisted with the planning and orchestrating of events sponsored by the Women's Department annually. She worked side by side with the women, no task too menial, and no job too great. Many times the majority of the work would rest on the shoulders of a few and Mother Sutton would be in the midst. She worked untiringly regardless of the task, event or the need.

Her care and support of her family was phenomenal; supporting Pastor in every facet of the ministry. He greatly valued her input. She was a major pillar of the church. Her concern and respect for others was often demonstrated by her willingness to compromise when necessary to achieve a common goal.

By many she was considered a people person, easy to talk to, down to earth, always exhibiting southern hospitality. She was an excellent cook, and showed her love for others by often extending an invitation for dinner.
Her desire to win others to Christ motivated her to reach out and share her life's experiences. Over the years Mother Sutton willingly accepted the challenge of mentoring young women from different walks of life by providing love, opening her home, giving wisdom, and offering biblical guidance. She gave "good counsel and was a teacher of what is right and noble", training them to be sane and sober of mind (temperate, disciplined), Titus 2:3-4.
For many of the women at Maryland Church, she was the spiritual mother they never had: a mentor, a confidant, a sharer of faith, an encourager when dealing with life's ups and downs.
God blessed her with the innate ability to see a treasure in everyone she met; encouraging them to bring forth that hidden talent and inner beauty. "But we have this treasure in earthen vessels, that the excellency of the power may be of God, and not of us", 2 Corinthians 4:7.
Her character is defined in Proverbs 31:10-31, a woman of strong character, great wisdom, skillful and full of compassion for others, "a woman whose price is far above rubies". Isaiah 66:13 says "As one whom his mother comforteth, so will I comfort you". Mother Sutton provided solace and comfort for so many, a peacemaker who brought peace, rest and comfort to her home, workplace and our church.
Mother Sutton's legacy of faith and strong work ethic is founded on the word of God. Her faith was evident as she dealt with life's difficulties and illness. She applied the same biblical principles to her life no matter what the trial or tribulation. I Peter 1:7 describes her faith "as of greater worth than gold".
She encouraged us to work together, and to support each other, admonishing us to work while it is day: "the night cometh, when no man can work." John 9:4 Mother Sutton understood the necessity of the work, that everyone has a work that no one else can do; not our own will, but the will of Him who sent us, because night is soon to come.
Today we want to focus not so much on what we have lost, but on what we have gained because Evangelist Bertha Sutton touched our lives. We remember the heart of a woman who loved God and God's people, a generous and thoughtful woman, who poured out from her heart - love, concern, and compassion for so many people. She served God by serving others. Her ministry profoundly impacted our lives and the ministries of the Maryland Church. She was a leader who influenced us, who helped us develop our character, integrity, and our spiritual walk. We remember her as a woman of God, always looking for an opportunity to be a blessing because she knew giving was a part of living.